Pamela Rose Martinez, better known by her ring name Bayley, is an American professional wrestler signed with WWE. She is a four-time women's champion in WWE and is recognized as the foremost woman to achieve the Triple Crown and Grand Slam Championship in WWE history.
Since her wrestling career began in 2008, she has gained a lot of fame and fans. She once wrote in her high school, "Sports is serious to me…I want to be a women's champion."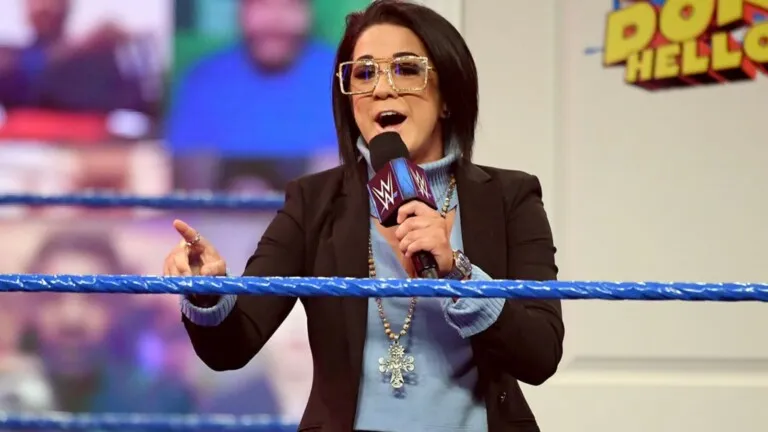 Likewise, she put her passion and obsession into sports and did win the titles in the championship. Bayley is one of the few female Latin-American wrestlers.
Moreover, she was listed as number one 1 in the 2020 PWI top 100 women's wrestlers list.
Before digging a little deeper into her life, let's have a look at quick facts.
Quick Facts
| | |
| --- | --- |
| Full Name | Pamela Rose Martinez |
| Birth Date | June 15, 1989 |
| Birth Place | San Jose, California, U.S. |
| Ring Names | Bayley, Davina Rose, Luchadora |
| Religion | Christian |
| Nationality | American |
| Ethnicity | Mixed |
| Education | Independence High School |
| Horoscope | Gemini |
| Father's Name | Not Available |
| Mother's Name | Ann B |
| Siblings | Three; Melissa, Brenda Marie, and Manuel |
| Age | 33 Years Old |
| Height | 5 feet 6 inches |
| Weight | 119 lbs (54 kgs) |
| Hair Color | Black |
| Eye Color | Brown |
| Build | Athletic |
| Profession | Wrestler |
| Current Promotion | WWE |
| Debut  | September 19, 2008 |
| Active Years | 2008 – Present |
| Marital Status | Not Married |
| Ex-Fiance | Aaron Solow |
| Finisher | Belly to Belly maneuver |
| Net Worth | $2 million |
| Social Media | Facebook, Instagram, Twitter |
| Merchandise | T-shirt, Logo Pin, Poster |
| Trained By  | WWE Performance Center, Jason Styles |
| Last Updated | September,2022 |
Bayley | Childhood
Her father's name has not been revealed. She grew up alongside her three siblings. She has two sisters named Melissa and Brenda Marie and a brother named Manuel.
Martinez grew up in Newark, California, to her Mexican parents. Her mother, Ann B, gave birth to Bayley on June 15, 1989.
Martinez attended Independence High School, where she was actively involved in sports. From basketball to volleyball, she is very devoted to sports.
While some girls dreamt about butterflies and teddy bears, she dreamt about punching and kicking.
Furthermore, her bedroom walls were filled with The Rock, the Hardy Boys, Lita, and Randy Savage posters. As a part of her school's assignment, she has written numerous essays regarding sports.
For instance, she said she would write about WrestleMania, where it was staged that year in an interview.
Bayley spent her childhood watching WWE and was glued to the TV once she saw Randy Savage making his entrance.
Although her father and siblings were supportive of her choice, she recalls her mother not even letting Bayley watch it on TV.
Today, her mother is Bayley's number one fan and attends each show of hers.
Bayley | Wrestling Career
Chasing her dream to be a wrestler, she started training at the age of 18. Her head trainer would call her mother, seeking permission for the training. Her mother knew all she wanted to do was wrestle; she finally gave in.
Bayley had been attending Big Time Wrestling's show since she was 11. Thus, she attended Big Time Wrestling's training classes in April 2008 and was trained by Jason Styles every week.
Bayley | Independent Circuit
After months of training, she made her debut in September 2008. For the independent circuit, she wrestled under the name Davina Rose. She wrestled for Big Time Wrestling till 2012.
Besides, she also wrestled for NWA Championship Wrestling from Hollywood, Shine Wrestling, and Pro Wrestling Destination between 2011 and 2012.
In October 2011, she made her Shimmer Women Athletes debut.
Unfortunately, she lost all four matches. In 2012, she won her first game at the age of 23. She defeated Melanie Cruise and Mena Libra in Shimmer Women Athletes Volume 48.
She signed her contract with WWE in December 2012.
Bayley | WWE
In January 2013, she made her WWE's developmental territory NXT at a live event debut. She wrestled under a mask and adopted the ring name "Bayley." She made her NXT television debut but lost to Paige on March 20.
Martinez's first win for WWE was registered in September 2013, where she teamed up with Charlotte against Alicia Fox and Aksana. Nonetheless, in January 2014, she won her second victory with WWE against Summer Rae.
In August 2014, she defeated Sasha Banks and became the number one contender to Charlotte's NXT Women's Championship. However, she did not win the championship as she lost to Charlotte.
Bayley was attacked on November 27, episode by Banks and Becky Lynch, her former friend. This injured her knee and returned only on January 21, 2015, episode.
On August 22, 2015, Bayley won her first NXT Women's Championship after defeating Sasha Banks. She is the third woman in WWE history to hold two concurrent titles.
Raw Women's Champion
Bayley made her main roster debut on the August 22, 2016, episode.
Bayley won her first WWE Raw Women's Championship on February 13, 2017. She defeated Flair and retained the title until April 30.
She won the WWE Raw Women's Championship on February 13, 2017, after defeating Flair. On April 30, she lost her title to Bliss at the Payback.
In August 2017, she suffered from a shoulder injury, leaving her unable to perform. She returned for September 18 episode to help Banks.
The same year, Bayley had developed an unfriendly relationship with Banks. Moreover, their relationship only worsened, and both started attacking each other verbally.
They were even required to attend a councilor's meeting. Thus, this resulted in 'The Boss 'n' Hug Connection' in 2018 July.
SmackDown Women's Championship
Bayley was drafted to SmackDown on April 16. Out of 17 reigns, as of October 26, 2020, Bayley has the longest singular reign at 381 days, during her second reign.
Moreover, Bayley also has the longest combined reign at 520 days.
For the first time in her WWE career, she turned heel on September 2, 2019. During the match, she supported Banks and attacked Becky Lynch.
She further explained that the attack on Lynch was only to defend and support Banks.
Back to WWE
Bailey made a surprise return at WWE SummerSlam 2022, but she wasn't alone.

Shortly after Bianca Blair defeated Becky Lynch to retain her WWE RAW Women's Championship, Lynch showed excellent sportsmanship with her handshake and warm hug. But once Bailey's music played, her heartwarming moment didn't last. Bailey is back with Dakota Kai and Shirai Io, released in April.

Shirai was the subject of rumors that she was on his way to leaving WWE, but Shirai mocked Dave Meltzer on Twitter with an emoji spitting a scuttle bat. In the end, it turns out Shirai knew something the wrestling media didn't: after Bianca Blair's controversial 26-second loss at last year's SummerSlam was overshadowed by the return of Becky Lynch , this year it was Bailey's turn.

Bailey, Kai and Shirai went up against Bianca Blair and new babyface Becky Lynch. The five women teased getting physical until the heel side backed down.
Championships and Achievements
Busted Open

Tag Team of the Year (2020) – with Sasha Banks

CBS Sports

Tag Team of the Year (2020) – with Sasha Banks

Inside The Ropes Magazine

Female Wrestler of the Year (2020)

Pro Wrestling Illustrated

Feud of the Year (2020) vs. Sasha Banks
Inspirational Wrestler of the Year (2015, 2016)
Match of the Year (2015) vs. Sasha Banks at NXT TakeOver: Respect
Tag Team of the Year (2020) – with Sasha Banks
Ranked No. 1 of the top 100 female singles wrestlers in the PWI Women's 100 in 2020
Ranked No. 3 of the top 50 tag teams in the PWI Tag Team 50 in 2020 – with Sasha Banks

Rolling Stone

NXT Match of the Year (2015) vs. Sasha Banks at NXT TakeOver: Brooklyn
Title Feud of the Year, NXT (2015) vs. Sasha Banks for the NXT Women's Championship

Sports Illustrated

Ranked No. 6 of the top 10 wrestlers in 2020
Ranked No. 8 of the top 10 women's wrestlers of the year (2019) – tied with Sasha Banks

Wrestling Observer Newsletter

Most Improved (2015)
Worst Feud of the Year (2018) vs. Sasha Banks
Women's Wrestling MVP (2020)

WWE

NXT Women's Championship (1 time)
WWE Raw Women's Championship (1 time)
WWE SmackDown Women's Championship (2 times)
WWE Women's Tag Team Championship (2 times) – with Sasha Banks
Money in the Bank (Women's 2019)
First WWE Women's Triple Crown Champion
First WWE Women's Grand Slam Champion
NXT Year-End Award (2 times)

Female Competitor of the Year (2015)
Match of the Year (2015) vs. Sasha Banks at NXT TakeOver: Brooklyn

Ranked No. 10 of the top 50 Greatest WWE Female Superstars of all time (2021)
Slammy Award (2 times)

Double-Cross of the Year (2020) – for attacking Sasha Banks on SmackDown (September 4)
Social Media Superstar of the Year (2020)

Bumpy Award (1 time)

Tag Team of the Half-Year (2020) – with Sasha Banks
Social Superstar of the Half-Year (2021)
Bayley | Quotes
Growing up watching WWE, they used to have bra-and-panties matches or pillow fights, and that's why my mom didn't want me to watch wrestling. But when my parents divorced, I was able to watch wrestling again, and that's when I started to really get into wrestlers like Ivory.
I'd like to think I'm ambitious, and I like proving people wrong and surprising people.
If the coffee can taste so good with nothing else in it, then that's a good cup of coffee.
It's just insane because, as a longtime WWE fan, I still have all of my action figures in storage. Now to have my own, and to see my nephews play with them, to see kids tweet me pictures with them, and to see people are actually going out of their way searching all of these stores trying to find them, it's really cool and humbling.
Sasha Banks. She has it all; she has everything. Her mind works like no other, and her heart is undeniable.
I'm not here to put bruises on people's backs or to send them to the hospital. I'm here to put smiles on people's faces.
I played everything. I played volleyball, did track, cross-country, but basketball was my primary sport, my main focus.
Bayley | Marriage, Husband, And Kids
The Californian WWE wrestler is not married. Hence, she does not have a husband. Nevertheless, she had a significant affair with a fellow wrestler named Aaron Solow.
Moreover, they were engaged to be married. However, in 2021, the couple broke up, citing that they had different visions regarding their future.
The former couple broke their engagement in a lengthy Twitter post that Solow tweeted. He wrote, "Pam and I have realized that we have a completely different idea of what we want our future to look like; because of this, we feel that it would be in our best interests to call off our engagement and end our relationship."
Furthermore, he added, "We have a lot of great memories together that we'll forever cherish. We've agreed to remain friends and will continue to support each other in our careers and lives."
As of now, Bayley is not dating anyone. She is single and well-focused on her career.
Net Worth of Bayley in Different Currencies
Below is the net worth of Bayley in different currencies, including the Euro and Pound
Currency
Net Worth
Euro
€

1,725,000

Pound Sterling
£

1,471,970

Australian Dollar
A$

2,693,602

Canadian Dollar
C$

2,486,810

Indian Rupee
₹

148,113,500

BitCoin
฿

29
Bayley | Social Media Presence
Instagram – 3.2M Followers
Twitter – 1.7M Followers
Bayley | Frequently Asked Questions
Are Bayley and Sasha still friends?
Yes, Bayley and Sasha are best friends. Moreover, they have teamed up and played against each other.
Why did Bayley go for the new look?
For the first time, She turned heel in WWE and debuted a new look. She cut her hair and had a darker in-ring attire for her new character.
Is Bayley's nickname 'Bayley Dos Straps'?
Well, back in June 2020, Bayley named herself "Bayley Dos Straps." Well, "strap" is actually a banned word on the WWE platform.
Later, she stated that this particular name is popular backstage which is an inside joke.
What happened to Bayley?
Recently, during the start of 2021, Bayley faced an injury during her mandatory "return to the road" training session. Well, the WWE hasn't yet shared the nature of the injury; however, some stated that she struggled with a torn ACL.
Due to it, Bayley had to step down from the fight against Bianca Belair in an 'I Quit Match' for the SmackDown Women's Championship at Money in the Bank.