When a father is super successful, it puts a lot of pressure on his son's shoulders directly or indirectly. However, if the son proves just as good as the father, better yet even more, then the father can hold his head high out of pride. Owing to that, Jerry Goff is the proud father of American football quarterback Jared Goff.
Jerry himself is a former professional baseball catcher who played in Major League Baseball.
Throughout his career, he played for several major league teams, such as Houston Astros, Pittsburgh Pirates, and Montreal Expos.
To learn more about Jerry, stick with us till the end of this article.
In this article, we will discuss Jared Goff's father, Jerry Goff's life, career, net worth, and many more.
Let's start with some quick facts on the former baseball catcher.
Jerry Goff | Quick Facts
Birth Name
Jerry Leroy Goff
Known As
Jerry Goff
Date of Birth
April 12, 1964
Birthplace
San Rafael, California, United States
Current Residence
Novato, California, United States
Religion
Catholic
Sexual Orientation
Straight
Father Name
Not Available
Mother Name 
Not Available
Gender
Male
Age
58 Years Old
Profession
Former Professional MLB Player & Firefighter
Famous As 
A catcher in MLB
Nationality
American
Education
San Rafael High School, University of California, Berkeley
Height
6 ft. 3 in/1.91 m/191 cm
Weight
92 kg/202 lbs.
Eye Color
Brown
Hair Color
Dark Brown
Body Type
Athletic
Favorite Sports
Baseball & Football
Marital Status
Married
Spouse/Wife
Nancy Goff
Children
Lauren Goff, and Jared Goff
Siblings
Unknown
Zodiac Sign 
Aries
MLB Debut
May 15, 1990, for the Montreal Expos
Last MLB Appearance
May 12, 1996, for the Houston Astros
Played For
Houston Astros (1995-1996), Pittsburgh Pirates (1993-1994) and Montreal Expos (1990, 1992)
Position
Catcher
MLB Statics
Batting Average: .215
Home Runs: 7
Runs Batted In 19
Net Worth
$1 Million
Social Media
Not Active
Merch 
Jerry Goff Autographed Baseball Card, Jared Goff Signed Football Jersey, Jared Goff Signed Football Helmet
Last Update
October 2022
Jerry Goff | Early Life, Family & Education
The former professional baseball catcher Jerry Goff was born on April 12, 1964, in San Rafael, California, United States.
Unfortunately, information about his parents is not available.
Nonetheless, it is known that he is the proud dad of the NFL quarterback Jared Goff.
The Goffs, From Left Jerry Goff, Jared Goff, Lauren Goff, and Nancy Goff (Source: Heavy.com)
He also has a daughter named Lauren Goff, who graduated from UCLA in 2014 with a degree in international development. She earned her master's degree in social work.
JERRY CURRENTLY LIVES WITH HIS WIFE, NANCY GOFF, IN NOVATO, CALIFORNIA.
As for his education, Jerry attended San Rafael High School, a public high school located in San Rafael, California.
After high school graduation Jerry went to the University of California, Berkeley.
Jerry Goff | Age, Height & Weight
Jerry Goff was born on April 12, 1964, which makes him 58 years old as of 2022.
According to his birth date, he falls under the Aries sun sign, famously known for their ambitious and honest nature.
Also, Goff stands 6 ft. 3 in (1.91 m) and weighs around 207 lbs.
Jerry Goff | Career & Stat
Amateur Career
Jerry was drafted two times while he was still in high school. In 1983, he was drafted by the Oakland Athletics and in 1984 by the New York Mets.
However, he chose to attend the University of California, Berkeley, instead.
Jerry holds the ninth spot in career home runs for the University of California, a tie with former corner infielder Josh Satin.
Professional Career
Seattle Mariners drafted Jerry 63rd overall in the third round of the 1986 Major League Baseball Draft.
He agreed to the offered contract and went professional shortly.
Though he had a low batting average in the beginning, he eventually advanced through the Mariners' minor league system.
ON FEBRUARY 27, 1990, HE WAS ACQUIRED BY MONTREAL EXPOS IN EXCHANGE FOR PAT PACILLO.
Goff made his Major League debut with the Expos on May 15 that year and recorded an impressive gameplay throughout the season.
The following season he returned to the minors while still maintaining his position as a backup catcher for the teams such as Pittsburgh Pirates and Houston Astros.
All in all, Goff appeared in 90 major league games and, with his impressive performance on the field, recorded seven home runs, 46 hits, 22 runs, 19 runs batted in at a batting average of .215 and a .336 slugging percentage in 214 at-bats.
Father Son Relationship
Jerry and Jared Goff have a strong bond as father and son and given the fact that both of them are into sports.
One of the things that has allowed Jared to succeed as an NFL superstar has been his ability to remain calm and collected under pressure.
And he has noted time and again that it is not the trait he gets from his father, Jerry.
Also, Jerry has praised Jared's that peculiarity.
Not just father and son but the whole family have a special bond that keeps them together.
Despite the fact that Jared has touched the sky with his success as an NFL player, his family notes that has not changed the Lions quarterback at all.
Jerry has seen his son's maturation both as a person and a player.
About Jared Goff
Jared Thomas Goff, known professionally as Jared Goff, is an American football quarterback who plays for the Detroit Lions of the National Football League.
Jared grew up a San Francisco 49ers fan. He wears jersey number 16 as a tribute to 49ers quarterback Joe Montana.
Just like his old man, he attended the University of California, Berkeley. He played football for the California Golden Bears football affiliated with the University of California, Berkeley.
Goff was drafted first overall by Los Angeles Rams in the 2016 NFL Draft.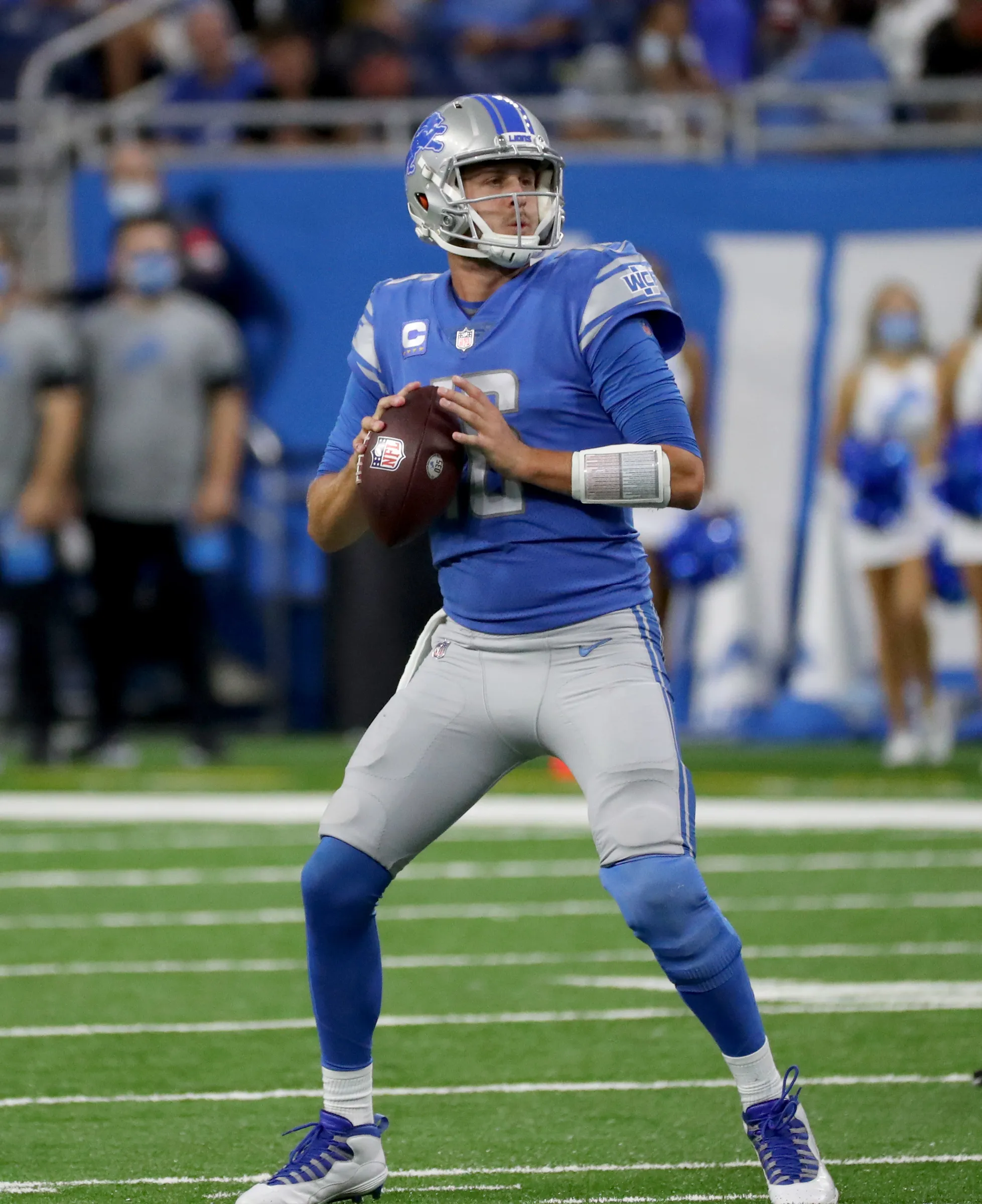 He signed a four-year rookie deal with the Rams on June 9, 2016. He made seven starts throughout his rookie season.
GOFF WAS NAMED TO HIS FIRST PRO BOWL ON JANUARY 22, 2018, AS AN INJURY REPLACEMENT FOR QUARTERBACK CARSON WENTZ.
The quarterback was traded to Detroit Lions two weeks after the 2020 campaign, which ended with a divisional playoff loss at the Green Bay Packers.
Moreover, Jared got engaged to his longtime girlfriend, Christen Harper, on June 16, 2022.
He has an enzyme deficiency that does not allow his body to break down proteins.
Jerry Goff | Net Worth
As of October 2022, Jerry Goff has a net worth of $1 million.
Most of his wealth can be attributed to his career as an MLB player and firefighter.
He played for six seasons in the major league earning a sizable fortune to lead a comfortable life.
Aside from his baseball salary, he also earned well from brand deals during his prime.
Similarly, Jerry's son Jared's net worth as of October 2022 is a staggering $30 million.
He makes most of his money from his NFL salaries, brand endorsements, and business pursuits.
As a matter of fact, Goff is the highest-earning player from the 2016 NFL Draft class.
AS OF THIS WRITING, HIS CAREER EARNINGS SIT AT AROUND $135,041,068, BUT BY THE TIME HIS ONGOING CONTRACT CONCLUDES, HE WILL HAVE EARNED $187,341,132 IN NFL SALARIES ALONE.
In 2019, he signed one of the most significant contracts in the NFL with the Los Angeles Rams.
The four-year $134 million deal came with a $25 million signing bonus, an average annual salary of $33.5 million, and $110,042,682 guaranteed.
In 2022, he will earn a base salary of $10.65 million and a roster bonus of $15.5 million.
Social Media Presence
Unfortunately, Jared Goff's father, Jerry, does not have social media.
Jared, on the other hand, has a considerable following on his social media platforms, Instagram and Twitter particularly.
His Instagram has more than 324k followers as of this writing. Similarly, Jared's Twitter has over 176.8k followers.
He basically shares his personal and professional career events via the platforms.
Jerry Goff's Popularity Over The Years
Baseball catcher and the father of NFL superstar Jared Goff, Jerry Goff, is quite popular around the world.
The above graph shows his popularity over the past five years.
Frequently Asked Questions (FAQS)
How old is Jerry's son Jared Goff?
Born on October 14, 1994 Jared Goff is 28 years old as of October 2022.
Who is taller, Jared or Jerry Goff?
Jerry Goff stands 1.91 m tall, while his son and Lions quarterback Jared Goff stands 1.93 m tall.
Whom did the Lions trade for, Jared Goff?
Interestingly, Detroit Lions sent Matthew Stafford in exchange for Jared Goff, one of the biggest deals in the offseason.