Keone Kela (pronounced as KEY-oh-nee KELL-uh) is an intriguing major league right-handed reliever. He is an American professional baseball pitcher for San Diego Padres.
Prior to MLB, Kela played for the Texas Rangers. Furthermore, he is an above-average player who instills fear and savors the game with his bullet-proof confidence.
According to the PITCH f/x system's track record in between the years 2013-2020, Kela has served 3,930 pitches.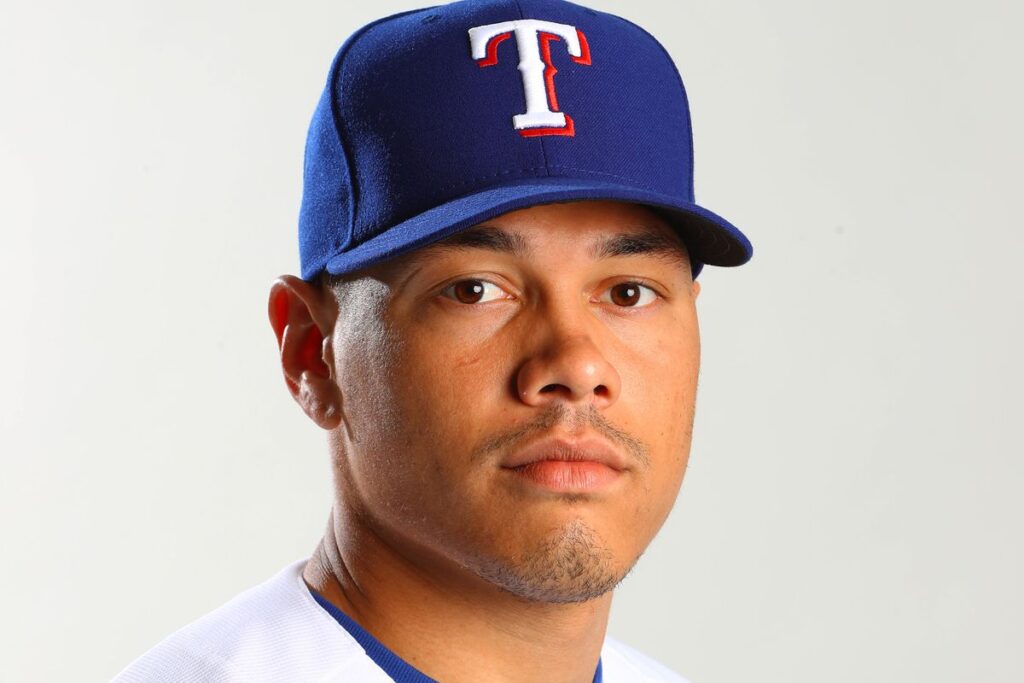 The common facts on the players are highlighted in the table below.
Quick Facts about Keone Kela
| | |
| --- | --- |
| Full Name | Keone Cole Kela |
| Known As | Keone Kela |
| Date of Birth | April 16, 1993 |
| Birth Place | Carson, California, United States |
| Nick Name | Key, Llave |
| Religion | Christianity |
| Nationality | American |
| Ethnicity | White |
| Horoscope | Aries |
| Age | 29 years old |
| Height | 6 ft 1 inch (1.85 m) |
| Weight | 104 kg (229.285 lb) |
| Hair Color | Black |
| Eye Color | Black |
| Build | Athletic |
| Father's Name | John Kela |
| Mother's Name | Shannon Kela |
| Siblings | No |
| Marital Status | Married |
| Wife's Name | Capri Kela |
| Kids | Daughter, Khari Kela |
| Profession | Baseball player |
| Position | Pitcher |
| Currently Plays For | San Diego Padres |
| Former Affiliation | Texas Rangers (2015-2018)Pittsburgh Pirates (2018-2020) |
| First game | 04-07-2015 (Age 21) |
| Active Years | 2012-present |
| Net Worth | $ 3,725,000 per annum |
| Social Media | Twitter |
| Merch | Baseball Trading Card, Autograph Baseball card |
| Last Update | September, 2022 |
Keone Kela | Appearance
Kela has a rectangle-shaped face with tan skin. He has an athletic build with firm muscles standing at 6 ft 1 inch (1.85 m). The player has small black eyes with a black beard, weighing 104 kg (229.285 lb).
Keone Kela | Early Life
Keone Cole Kela was born on April 16, 1993, to a young teenager John Kela and Shannon Kela, at Carson, California, United States. His father was just 15 years old, while his mother was 16 years old.
Kela used to spend every summer in Hawaii. Although he was a Californian, his father's family is from Hawaii. Therefore, his grandparents used to reside in Keaukaha on the Big Island. Hence, his childhood days went by enjoying Puhi Bay and Hilo.
Keone went to Carson Senior High School in Carson, California, and later enrolled and graduated from the Chief Sealth High School in Seattle, Washington.
After it, he was selected in the 29th round of the 2011 MLB first-year player draft by the Seattle Mariners. However, Keone did not sign up for it.
Instead of that selection, he attended Everett Community College and joined its baseball team. For one season, Kela played on the college baseball team as a centerfielder.
Keone Kela | Career
Although Kela started to pave his way towards his profession in 2012, his official career only started on April 7, 2015, after his debut with the Texas Rangers.
Texas Rangers
In the 12th round of the 2012 MLB first-year player draft by the Texas Rangers, Keone Kela was selected with the 396th overall selection. Herewith, Kela signed up with the Texas Rangers following the draft.
In 2013, Kela reached the Class A South Atlantic League. In the 2014 season, Kela kickstarted in Class A-Advanced and was promoted to the Frisco RoughRiders of the Class AA Texas League.
Later, in 2015, Kela got an invitation regarding the spring training. On May 2, 2015, Kela made the Rangers' Opening Day roster and collected his foremost career win against the Oakland Athletics.
He then closed off the 2015 season chapters with a 2.39 earned run average (ERA).
During the game in October 2015, Kela faced an elbow accident due to which he gave up one hit. Hence, he could not pitch further and missed three months of the 2016 season. After his recovery, Kela pitched to a 5-1 record with a 6.09 ERA in 35 games in 2016.
During the year 2017, Kela showed an unprofessional lack of effort in a minor league intrasquad game. In the end, Rangers shifted him to the Round Rock Express of the Class AAA Pacific Coast League for the start of the 2017 season.
Altogether, Keone Kela made ar total of 39 appearances for the Rangers missing various events at times due to his stiff right shoulder.
After ending the season in November, Kela underwent stem-cell therapy to counter persistent shoulder soreness.
Pittsburgh Pirates
After the closure of the first few months in 2018, Kela was traded for Taylor Hearn and Sherten Apostetol to Pittsburgh Pirates by the Texas Rangers on July 31, 2018.
During the game against the Cincinnati Reds on April 7, 2019, Kela was expelled after his role in a bench-clearing incident involving Chris Archer, Derek Dietrich, Yasiel Puig, Amir Garrett, David Bell, and Felipe Vázquez.
Similarly, Kela was involved in the second brawl on July 30, 2019, and was suspended for 2 games on August 1.
For the continuing season, the Pittsburgh Pirates bullpen has struggled to find consistency. The team's main setup man and the second-best reliever behind Felipe Vazquez have been on the injured list alongside Kela.
San Diego Padres
Kela signed a one-year contract worth 1.2 Million with San Diego Padres on February 18, 1021.
Keone Kela's Trade | Rumors
As per the news circulating, the Milwaukee Brewers talked with the Pittsburgh Pirates about trading for reliever Keone Kela.
If Kela is to be traded with the Brewers, their depleted state will get a solid set-up. Since they have their dominant weapon missing, their team would get dominant while Kela stands before left-hander Josh Hader.
Kela has a victory with no losses, a 3.45 ERA, and has allowed six earned runs across a span of 15 2/3 innings. He is just a season away from becoming a free agent in 2021.
Keone Kela | Thrive For Betterment
During the spring training of the year 2020, Keone Kela stated that entering the season was more than just a Pittsburgh Pirates' closer.
Starting from the Texas Rangers, Kela went from front-runner to go from setup man to stopper to replace jailed two-time All-Star Felipe Vazquez.
Kela has been classified as the self-described bull in a china shop since his involvement at the center of clubhouse chaos last season.
Even at the second brawl, Kela was harsher than that of Reds pitcher Amir Garrett. Although this is not a respectable change, he added that he would grow up with much more self-awareness.
For this notable makeover in his image, Kela credited his wife, Capri, and daughter Khapri.
Keone Kela | COVID 19
Even after surpassing the Injured List(IL) date, Kela wasn't present on the ground. Hence, due to a ton of negotiations, during the evening exhibition against the Cleveland Indians, manager Derek Shelton announced that Kela has indeed tested positive for COVID-19.
Even before Kela's trade-in in 2018, he has faced injuries all along. Thus, he pitched in just 32 games and 29.2 innings in 2019. Now, he is again battling an injury, COVID 19.
Due to his condition, though temporarily, Kyle Crick and Nick Burdi are the first two pitchers that may cross the path for Pittsburgh Pirates for replacement.
This also provides pitchers with opportunities such as Michael Feliz and Richard Rodriguez to pitch in high-leverage situations.
Keone Kela | Pitch
From an Arsenal perspective, Kela basically relies on 2 pitches, although he has thrown 1-2.5% change-ups. Kela wields a high 90's fastball averaging between 95.8 – 96.3 mph with a devastating curveball.
Velocity
Kela throws 83.1 MPH on average, topping out at 85.1 MPH. He usually has 17.4 revolutions (2312 RPM) from hand to the plate. Kela makes his throws in the strike zone 29% of the time.
Keone Kela | Jersey
Kela wears jersey number 27 for the San Diego Padres of MLB. Here's a picture of Kela wearing his jersey:
Keone Kela | Stats
You can watch Keone Kela's career statistics on the website of baseball-reference.
Keone Kela | Net Worth
With the start of the year 2022, Keone Kela signed a $ 3,725,000 per annum contract with the Pittsburgh Pirates.
This per annum contract includes his salary and all the other necessities. Since he has served more than four seasons thus not to mention, from the year 2021, Kela is a UFA(Unrestricted Free Agent).
You might want to read about Max Fried.
Keone Kela | Personal Life
According to sources, Keone Kela is married to Capri and has a November-born daughter, Khapri.  However, there is no more information about his love life or personal life.
Keone Kela | Pronunciation
The name is pronounced as kee-OWN-ee KELL-uh. You can hear him pronounce his name in this interview:
Keone Kela | Social Media
Keone is quite a reserved player; hence, loads of news about him are uncovered. Even for his social media account, his Instagram account is still ambiguous, while his Twitter account is @keonekela35.
Keone Kela FAQs
Is Keone Kela going to take over Pittsburgh Pirates' closer?
Since Keone Kela has been terrific lately, with just one earned run over his last 19.0 IP; therefore, he may be the option for the Pittsburg Pirates. However, Richard Rodriguez and Francisco Liriano are also in the line.
What is Keone Kela's issue with the Los Angeles Dodgers?
Keone Kela while playing for the Texas Rangers was called for a balk by Los Angeles Dodgers' player Jim Joyce and the umpire Marvin Hudson.
Another Dodger Kike Hernandez received home because of Kela's balk, bringing a 1-0 victory for the Los Angeles Dodgers.
Moreover, Kike Hernandez while talking with the associated press said that he faked a run to home so that he could disrupt Kela's concentration, and was glad that the plan worked.