Celebrity Biographies
Biography of Kris Humphries Wife [Age, Height, Husband, Kids, Family, Salary, Award & Net worth ]
Kimberly Noel Kardashian is a billionaire American model, businesswoman, media personality, socialite, and the former wife of American professional basketball player Kris Humphries.
Humphries started dating the TV star in October 2010, and the couple engaged in 2011.
The two walked down the aisle on August 20, 2011, with hopes of living together for the rest of their lives.
However, the marriage ended in just 72 days as Kim filed for divorce on October 31, 2011.
Here are some quick facts about the basketball star's former wife:
Kris Humphries Wife | Quick Facts
| | |
| --- | --- |
| Full Name | Kimberly Noel Kardashian |
| Date of Birth | October 21, 1980 |
| Zodiac | Libra |
| Nicknames | Kiki, Keeks, Kimmie |
| Age | 41 Years Old |
| Birth Place | Los Angeles, California, United States |
| Nationality | American |
| Religion | Christianity |
| Height | 5 feet 2 inches/1.57 m/157 cm |
| Weight | 125 lbs./56 kg |
| Hair Color | Black |
| Eye Color | Brown |
| Tattoo | None |
| Sexual Orientation | Straight |
| Father's Name | Robert Kardashian |
| Mother's Name | Kris Jenner |
| Children | North, Saint, Chicago & Psalm West |
| Marital Status | Divorced |
| Relationship | Single (As of September) |
| Former Husbands | Damon Thomas, Kris Humphries, Kanye West |
| Social Media | Instagram, Twitter, Facebook, TikTok |
| Profession | Media personality, Socialite, Businesswomen, and Model |
| Net Worth | $1.4 Billion |
| Merch  | Signed Photo, Perfume, KKW Beauty Red Creme Lipstick |
| Last Update | October 2022 |
Kris Humphries Wife | Early Life, Family & Education
Kim Kardashian was born in Los Angeles, California, on October 21, 1980, to her father, Robert Kardashian, and mother, Kris Kardashian.
She has three biological siblings. She grew up with Kourtney, her older sister, Khloe, her younger sister, and Rob, her younger brother.
After her parents' separation, her mother married Bruce Jenner (now Caitlyn Jenner).
She then shared her childhood with step-siblings Burton "Burt," Brandon, Brody, Casey Jenner, and half-sisters Kendall and Kylie Jenner.
Kim Kardashian's Childhood Family Photo (Source: Twitter)
The media personality attended Marymount High School, an all-girls school in Los Angeles.
She later attended Pierce College in Los Angeles but never completed it.
SHE ALSO ENROLLED AT THE CALIFORNIA STATE BAR TO STUDY LAW IN 2018. KIM FINALLY PASSED HER BAR EXAMS AFTER FOUR ATTEMPTS IN DECEMBER 2021.
O. J. Simpson, a former American football player, is her godfather.
Later, Kim's father, Robert, died of esophageal cancer on September 30, 2003, at his home in Encino, LA. He died at the age of 59, and the family buried him at Inglewood Park Cemetery in California.
Parents' Separation
The star's parents separated in 1991 when Kim was just 11 years old.
Kris and Robert Kardashian were married for 12 years when Kris had an affair. Robert found out and filed for divorce.
Later, her mother married Bruce Jenner, a retired Olympic gold medalist.
Eventually, Kris and Bruce announced their separation in 2013 after being together for 23 years. The divorce was finalized in March 2015.
Her stepfather, Bruce Jenner, publicly came out as a trans woman  Caitlyn Marie Jenner in April 2015.
Kris Humphries Wife | Career
Kim started working at Body, a local clothing store in Encino, in 1996 at the age of 16.
Afterward, Kim partnered with her two sisters and launched a D-A-S-H boutique in Calabasas, California.
The Kardashian family also has a reality show named "Keeping Up With the Kardashians."
KUWTK, ONE OF THE LONGEST-RUNNING REALITY TV SHOWS, FORMERLY AIRED ON E! NETWORK FOR 20 SEASONS AND CONCLUDED ON JUNE 20, 2021.
Nearly a year later, the family returned to reality television for the Hulu series The Kardashians, which premiered on April 14, 2022.
Kardashian launched KKW Beauty, a beauty line, in June 2017 and later launched KKW Fragrance.
Then, she launched her own shapewear company, Skims, which supplies undergarments, loungewear, and pajamas.
Kris Humphries Wife | Marriage
Kim started dating Kris in October 2011. Humphries played for the New Jersey Nets, then.
The couple got engaged after some time in May 2011.
On August 20, they married in a wedding ceremony in Montecito, California.
Earlier that month, she had released her "wedding fragrance" called "Kim Kardashian Love," which coincided with her wedding.
A two-part TV special showing the preparations and the wedding itself aired on E! in early October 2011.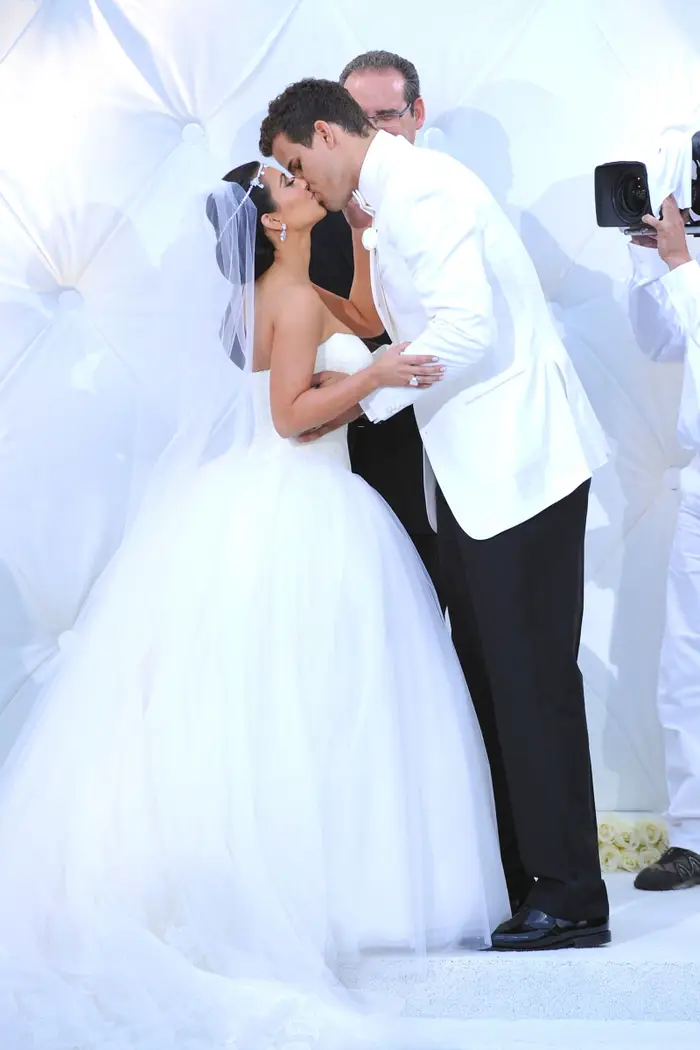 Several media outlets covered the ceremony, including The Washington Post, which dubbed the marriage a "media blitz."
Later, she filed for divorce from Humphries on October 31 after 72 days of marriage, citing irreconcilable differences.
On the contrary, several news agencies speculated that Kardashian's marriage to Humphries was primarily a publicity hoax. They alleged that the family designed the wedding to boost the Kardashian family's brand and subsequent television ventures.
The divorce was subject to across-the-board media engagement.
Short Wiki On Kris Humphries
Kristopher Nathan Humphries is a former American professional basketball player born on February 6, 1985.
He was born in Minneapolis, Minnesota, to Debra and William Humphries.
He was the youngest one among three children of his parents.
KRIS ATTENDED HOPKINS HIGH SCHOOL FOR HIS PRIMARY SCHOOLING ALONGSIDE HIS SISTERS, KRYSTAL AND KAELA.
Humphries graduated from high school in 2003. Then, he enrolled at the University of Minnesota, the same University his father attended.
The Utah Jazz recruited Humphries in the 2004 NBA Draft as the 14th overall pick. He played for fourteen years with eight different NBA teams throughout his long career.
Kris Humphries Wife | Other Relationships
In 2000, Kardashian eloped with music producer Damon Thomas at the young age of 19.
In 2003, Thomas filed for divorce. Kardashian subsequently blamed their breakup on his physical and mental abuse.
She also claimed that she was high on ecstasy during her wedding ceremony.
Kardashian began dating musician Ray J shortly after finalizing her divorce.
Moreover, she started dating a longtime friend and rapper, Kanye West, in April 2012 while she was still legally married to Humphries.
KIM AND KANYE BECAME ENGAGED ON OCTOBER 21, KARDASHIAN'S 33RD BIRTHDAY. THE COUPLE THEN TIED THE KNOT ON MAY 24, 2014, IN FORTE DI BELVEDERE IN FLORENCE, ITALY.
Riccardo Tisci designed her wedding gown, while Michael Costello designed the outfits for several of her guests.
In January 2021, CNN reported that the pair were considering divorce. Subsequently, Kim filed for divorce on February 19, 2021.
They decided before a judge in April 2021 to break their marriage owing to "irreconcilable disagreements" and to share custody of their four children.
They agreed that neither of them needed spousal assistance because they both made decent money.
Later, Kardashian filed a case with the Los Angeles Superior Court in February 2022, requesting a speedier divorce procedure from West, claiming that he was attempting to prolong it.
On March 2, the courts officially declared Kardashian single.
Kris Humphries Wife | Recent Relationship
In November 2021, Kardashian began dating actor and comedian Pete Davidson.
On May 2, 2022, they went to the Met Gala together and made their first significant public appearance together.
In March, fans were shocked when Kim revealed that Pete had inked tattoos on his body to show admiration for his girlfriend.
However, despite seeming chemistry on August 5, 2022, Kim and Pete broke up after nine months of dating.
Kris Humphries Wife | Health Issues
Kardashian has spoken out about her struggles with her first two pregnancies.
She developed pre-eclampsia during her first pregnancy, forcing her to deliver at 34 weeks.
After both pregnancies, she had placenta accreta, which required surgery to remove the placenta and scar tissue.
The doctors recommended her not to get pregnant again after her second delivery; her third and fourth children were born through surrogacy.
Kardashian has also previously discussed her psoriasis.
Similarly, she tested positive for COVID-19 in November 2020, according to reports from May 2021.
She verified this but disputed that she contracted the sickness after throwing a party on a private island.
Kris Humphries Wife | Getting Robbed
Kardashian got robbed at gunpoint in the apartment she was staying in on October 2, 2016, while attending Paris Fashion Week.
ALLEGEDLY, FIVE PEOPLE DRESSED AS COPS HANDCUFFED AND GAGGED HER. THEN THEY WENT ON TO STEAL $10 MILLION WORTH OF VALUABLES FROM HER.
Kardashian reportedly begged for her life before she was placed in the bathtub unharmed.
Conversely, after the news of the robbery was public, whether or not Kim staged the events herself was a significant conversation amongst the people.
Similarly, on October 10, 2016, a video surfaced showing Kim immediately after the alleged robbery, and she looked completely different than what she had claimed previously.
In response, Kardashian filed lawsuits against multiple media publications and obtained a gag order to have the footage removed from stories since it was a part of an active police investigation.
However, on October 25, 2016, Kardashian dropped the lawsuit, prompting more criticism that the robbery was a ploy to generate media attention.
Consequently, the production of Keeping Up with the Kardashians was put on hold after the robbery and resumed on October 26.
Later, on January 9, 2017, 17 persons of interest were detained by the French Police for questioning regarding the robbery case.
The suspects who allegedly robbed Kim were of or near retirement age and were dubbed the "Grandpa Robbers" by the press.
Kris Humphries Wife | Social Activism
Kim Kardashian advocated for the recognition of the Armenian Genocide with several United States Presidents. She has also worked for the Armenian people as she has roots there.
Likewise, in January 2017, she made a tweet that showed the difference between the people killed by gun violence and the people killed by terrorism in the United States.
Her tweet highlighted that people are 800 times more likely to die of gun violence than terrorism in the US.
Kardashian has also worked on prison reform and played a significant role in persuading President Trump to support the First Step Act.
SHE ALSO HELPED 17 PEOPLE GET RELEASED FROM PRISON WHO WERE CONVICTED OF NONVIOLENT DRUG OFFENSES.
Many people have praised her for her social efforts, while some describe the efforts as public stunts. Several people have accused her of taking credit for work she did not do.
Kris Humphries Wife | Physical Features
Kim was born on October 21, 1980, under the astrological sign of Libra.
She has an aesthetic body with a height of 1.57 meters, and her body weight is around 125 lbs.
Moreover, she has an hourglass figure that measures approximately 38-26-41 inches.
Similarly, she has beautiful dark brown eyes and long, shiny brown hair. Also, her shoe size is 7 (US).
Kim revealed that she has 6 body piercings. She said she has one belly button piercing, one in her right ear, and four in her left ear.
The model also stated that she has a freckle on her eyeball, something no one would expect!
Kris Humphries Wife | Income & Net Worth
Kim has monetized her fame well, and Forbes magazine estimates that she has a net worth of $1.4 billion.
To begin with, she is one of the highest-paid television figures, with an estimated annual salary of around $50-$80 million.
In recent years, her earnings and net worth have skyrocketed due to the successes of her companies, Skims and KKW Beauty.
Similarly, she makes money from a mobile game, "Kim Kardashian: Hollywood."
CELEBRITY NET WORTH MENTIONS THAT 28% OF THE EARNINGS OF THE MOBILE GAME GO TO KIM. FURTHERMORE, NEWS TABLOIDS ESTIMATE THAT SHE HAS MADE AROUND $200 MILLION IN REVENUE FROM THE APP.
Aside from that, Kim has a massive social media following, Instagram particularly.
The platform generates a sizable income from sponsored posts.
She reportedly charges around $300,000 to $1 million for a sponsored post on the platform.
Thus, Kim makes a lot of money and is one of the wealthiest celebrities on the entire planet.
Social Media Presence
Frequently Asked Questions
Does Kim Kardashian have a tattoo?
No, Kim does not have a tattoo, and she doesn't seem to be planning to have one, either.
Is Kim currently married to anyone?
No, Kim is not married to anyone as of September 2022 and is single.