Tyreek Hill, nicknamed "Cheetah" for his speed, is an American football wide receiver for the Miami Dolphins of the National Football League (NFL) who was drafted by the Kansas City Chiefs in the fifth round of the 2016 NFL Draft. Currently, he is the #10 Wide Receiver at the Miami Dolphins.
The Kansas City Chiefs traded Tyreek on March 23, 2022,  to the Miami Dolphins in exchange for a 2022 first-round.
Hill signed a four-year, $120 million contract deal that included $72.2 million in guaranteed money, making him the highest-paid wide receiver in the NFL.
Winner of the Super Bowl in 2019, he was selected to six Pro Bowls in his six years in the league.
He started football with the Kansas City Chiefs of the National Football League (NFL).
Besides, the NFL wide receiver attended and played for colleges such as Garden City Community College, Oklahoma State University, and the University of West Alabama.
Before the in-depth dive into his personal life, career, and controversies, below are the commonly searched facts on Tyreek Hill.
Quick Facts
Full Name
Tyreek Hill
Date of Birth
March 1, 1994
Birth Place
Pearson, Georgia
Nick Name
Cheetah
Religion
Christianity
Nationality
American
Ethnicity
Afro-American
Zodiac Sign
Pisces
Age
28 years old
Height
5 ft 10 in (1.78 m)
Weight
185 lb (84 kg)
Hair Color
Black
Eye Color
Black
Build
Athletic
Father's Name
Derrick Shaw
Mother's Name
Anesha Sanchez
Siblings
N/A
Education

Coffee High School, Georgia (High School)
West Alabama (College)
Garden City Community College,
Oklahoma State University
The University of West Alabama.

Marital Status
Married
Girlfriend/Partner
Crystal Espinal (Ex-wife)Kymsley Jackson (Ex-girlfriend)
Kids

A son, Zev Carter (born in 2015)
Twins Nakeem and Nyla (born in July 2019)
Tyreek Hill Jr. aka Deuce (May 2, 2019)

Profession
Football Player
Position
Wide Receiver
Affiliations
Kansas City ChiefsMiami Dolphins (Since March 2022)
Active Years
2016-present
Net Worth
$40 million
Social Media
Instagram, Twitter & YouTube
Merch
Jersey, Poster
Last Update
September, 2022
Tyreek Hill | Early Life & Family
Hill was born on March 1, 1994, to teenage parents Derrick Shaw and Anesha Sanchez. He was born under Pisces' sun sign and was raised by his mother as a single parent.
Hence, he had his childhood with maternal grandparents, but things did not come up quickly.
From 1989 to 2016, his grandfather, with whom he grew up, was charged with 15 criminal cases, mainly theft and burglary; hence, he was convicted of at least four charges.
His grandmother Virginia Hill was also charged with trespassing, disorderly conduct, and giving false information to a police officer.
Whatever it was, it is clear that Tyreek had a difficult upbringing in a home. Additionally, it is also evident that he was the recipient of corporal punishment.
Early Education
Tyreek Hill is a native of Pearson, Georgia, and thus attended Pearson Elementary in Pearson, Georgia. After that, he joined Coffee High School, where he won both 100 and 200 m track races at the 2012 Georgia 5A state meet.
Additionally, at the 36th Golden South Classic in Orlando, Florida, on May 26, 2012, he recorded his season-best with 100 m (in 10.19 s) and a PR in the 200 m (in 20.14 s).
Therefore, he was named the fastest-time junior athlete behind Ramil Guliyev. However, his 200m was close to Roy Martin's 1985 national high school record by one-hundredth of a second.
Besides his incredible speed run, the Track and Field News featured him as the "High School Athlete of the Year" for 2012. Again, he appeared in the USA Today All-American track and field selection.
Following it, Tyreek had run in a 4.25 40-yard dash at a Nike Sparq Camp and a wind-assisted (+5.0 m/s) 9.98 s in the 100-meter dash at the 2013 Hutchinson NJCCA Championships.
Physical Attributes
Tyreek Hill has immense speed, which he maintains due to his muscular and ripped physique. He is tall at 5 ft 10 in (1.78 m) and weighs 185 lb (84 kg).
Furthermore, he has a tan complexion with black eyes and black hair, which he dyes blonde on the tips at times.
Specifically, Tyreek has a broad neck with a tattoo that reads "He Strengthens Me" and "Forgive Me."
This is reportedly done after his abuse case to ask forgiveness from the Lord so that the Almighty could show him his path.
Likewise, Hill's looks are incomplete without Black pair of eyes and Black hair color. He belongs to American nationality with Afro-American ethnicity and follows Christianity religion.
Tyreek Hill | Initial Career
Garden City Community College
Tyreek commenced football with the Broncbusters football team at Garden City Community College in 2013. As a sophomore, he marked 659 rushing yards and five touchdowns while catching 67 passes for 532 receiving yards.
Oklahoma State University
After his tenure at Garden City Community College, he chose to go to Oklahoma State University, where he first made his debut with the Cowboys on August 30, 2014.
His first season came as a loss to the Florida State Seminoles when he had six passes for 62-receiving yards.
On September 25, 2014, he played against the Texas Tech Red Raiders, which bought him his first career touchdown as he recorded three receptions for 50-yards, six rushing attempts for 39-yards, and three kick returns for a total of 62-yards.
Moving forward, he faced the Iowa State Cyclones, where he marked his season-high 148 kick-return yards on five attempts.
Following it, he had his first kick return for a touchdown of the season.
Furthermore, on November 1, 2014, he scored 102 rushing yards on 18 attempts against the Kansas State Wildcats.
Besides, December 6, 2014, came as his last match with Oklahoma State University, in which he contributed to a win with a 92-yard touchdown over their rival Oklahoma Sooners.
Before Hill had played as a running back and wide receiver and returned, he was later dismissed from the Oklahoma State football team on December 11, 2014.
Hill's 1,811 all-purpose yards in their tenure were ranked 11th nationally, and six touchdowns. Furthermore, he stood second for his 996 combined return yards.
University of West Alabama
Tyreek Hill had ended at the University of West Alabama on September 1, 2015, and started playing for the Tigers.
However, he was initially turned down by the West Alabama head coach Brett Gilliland. Hence, his past cases made it hard for him to get back.
Therefore, Hill had made a personal plea to everyone from Oklahoma State to the head coach. Afterward, head coach Brett Gilliland helped him convince them to let him attend either as a full-time school or be employed.
He had 25 carries for 237 yards and one touchdown as a running back for his gameplay. It was followed by 27 receptions for 444 yards, a touchdown as a wide receiver, and 20 returns averaging 10.7 yards with two touchdowns as a punt receiver.
Likewise, he had 20 returns averaging 23.0 yards with two touchdowns as a kick returner.
Therefore, in 11 games, he had an average of 135 all-purpose yards until a 307-all-purpose-yard burst against Delta State in Game 8.
Tyreek Hill | Professional Career
Due to his domestic violence case, Tyreek was undrafted during the 2016 NFL Draft and was not invited to the NFL combine.
However, he got a chance to showcase his abilities to the scouts. The Scouts were impressed with his speed and workout.
Although he had good reviews on his workout, many were not ready to pull up with him.
Fortunately, his head coach from West Alabama had maintained 20 teams interested in his play.
Kansas City Chiefs
In the 2016 NFL draft, Hill was selected by the Kansas City Chiefs in the 5th round coming in the 165th overall.
However, the Chiefs were criticized by the people for drafting Tyreek due to his past, and Chiefs' general manager John Dorsey had to pay a charge to the prosecutor.
Alongside Hill's draft, the Chiefs' held an impromptu press conference addressing the issue to the media.
The Year 2016
Firstly, Hill signed a  four-year, $2.58 million contract on May 17, 2016, including $100,000 guaranteed and a signing bonus of $70,000.
As for his newbie season, he was featured as the Chief's punt returner, kick returner, and fourth wide receiver behind Jeremy Maclin, Chris Conley, and Albert Wilson.
His top game came against the San Diego Chargers, where he marked his first NFL catch for a nine-yard touchdown pass from Alex Smith, thus, defeating them.
Week 8
Tyreek took another 30-14 victory from the Indianapolis Colts, recording season-high 98 yards and a touchdown.
Following it, in two weeks' tenure, he had another game with the Carolina Panthers, where he had ten catches for 89 yards; thus, he defeated them by 20-17.
Week 12
Tyreek had another victory against the Denver Broncos, where he had to return a kickoff for an 86-yard touchdown, run for a three-yard touchdown, and catch a three-yard touchdown pass with less than five seconds left in the fourth quarter.
Hence, he became the first player to return a touchdown with a kick and increased his speed.
To illustrate, he had a speed of 22.77 miles per hour (36.64 km/h), which helped him earn the AFC Offensive Player of the Week.
Week 14
Hill partook on Thursday Night Football, where he had faced the Oakland Raiders and thus, returned their punt 78-yard touchdown and caught six receptions for 66 yards.
Furthermore, he had a 36-yard touchdown reception, contributing to the Chiefs' first place in the AFC West. Therefore, Hill has been titled the AFC Special Teams Player of the Week.
He had 33-10 against the Broncos, marking six carries for 95 rushing yards and scoring a 70-yard rushing touchdown.
In the seasonal finale, he had the match against the Chargers, where he caught five passes for 46 receiving yards, three carries for 15 rushing yards, and a 95-yard punt return for a touchdown.
In addition to that, it added as a victory with a score of 37-27 and later earned him the second AFC Offensive Player of the Week.
2016 Result
Tyreek closed the season with one start in a total of 16 games with seven combined tackles.
He was also added to the 2017 Pro Bowl as a return specialist. On January 6, 2017, he was named First-team All-Pro as a punt returner.
The Year 2017
He started as being #36th on the NFL Top 100 Players of 2017. On the 2017 season opener in September, he faced the Super Bowl champion, the New England Patriots, on Thursday Night Football.
They had a win on the road by 42–27, with Hill having a career-high 133 receiving yards on seven receptions.
Week 5 & 8
Tyreek appeared facing the Houston Texans, where he had an 82-yard punt return touchdown in the fourth quarter.
Additionally, in the 8th week, Hill had his first interception of the Chiefs against the Denver Broncos on Monday Night Football.
Furthermore, he recorded a 56-yard touchdown pass from Alex Smith during the match against the Dallas Cowboys.
Week 13
The Chiefs had a loss of 31-38 against the New York Jets, where Hill had 185 receiving yards on six receptions and two touchdowns.
Following it, he was against being listed in the Pro Bowl as a return specialist for the AFC.
To sum up the season, he had 75 receptions for 1,183 yards and seven touchdowns, with  25 punt returns for 204 net yards and a return touchdown.
The Year 2018
Hill commenced the season with the rank of #40 on the NFL Top 100 Players of 2018. His first match came with the Los Angeles Chargers, which eventually turned into a victory as he ended with 169 receiving yards and two touchdowns.
Not to mention, he made his 13th career touchdown of over 50 yards.
Secondly, he had a game with the Pittsburgh Steelers, gaining another touchdown alongside five passes for 90 yards.
However, the other three games followed with a disappointing impression. As for the other game against the New England Patriots, they had a 43-40 loss, with Hill having three receiving touchdowns on seven receptions for 142 yards.
It was swiftly followed by the victory over the Arizona Cardinals and his third 100-yard reception. On Monday Night Football, Hill had a career-high 215 yards, although it was against the Los Angeles Rams.
Right after it, he closed the chapter with career-high 87 receptions for 1,479 yards and 12 touchdowns.
To illustrate, he had stood fourth in the league in receiving yards and touchdowns. After it, he was also named to his third straight Pro Bowl.
He did not forget the first-team All-Pro in the "flex" position and second-team All-Pro as a wide receiver.
The Year 2019
A few months into 2019, Hill was suspended from the team on April 26 by the Chiefs' general manager Brett Veach due to his ongoing child abuse investigation.
However, he was not disciplined for the investigation on July 19, as the league felt he did not violate the personal conduct policy.
In addition, he even signed a three-year, $54 million extension on September 9.
He injured his shoulders as the Hill was in the season-opening against the Jacksonville Jaguars. He had a posteriorly dislocated sternoclavicular joint.
After his treatment, on Week 6, he faced the Housten Texans scoring five passes for 80 yards and two touchdowns.
Besides, he had 74 receiving yards, including a 57-yard touchdown against the Denver Broncos.
Subsequently, when Hill flashed his signature peace sign, he was fined $10,527.
Meanwhile, in Week 9, he played against the Minnesota Vikings, claiming the 26-23 victory as he had six passes for 140 yards and a touchdown.
Hill had 11 catches for 157 yards for the next game and a touchdown gaining the victory from the Tennessee Titans.
By the end of the season, he had recorded 58 receptions for 860 receiving yards and seven receiving touchdowns.
The Year 2020
The Chiefs began the year with a game against the Houston Texans, where Hill recorded four receptions, 66 receiving yards, and one receiving TDs.
Following it in Week 2, against the Chargers game, he failed to make much impact as he had five receptions, 44 receiving yards, and 0 receiving TDs.
Hence, he had many matches moving forward, and by the end of 2020, he is estimated to have 80 receptions, 1,277 receiving yards, and ten receiving TDs.
The Year 2021
Hill made an excellent start to the 2021 season with 11 receptions for 197 and a touchdown in a 33-29 win over the Cleveland Browns.
He has 11 receptions for 186 yards and three touchdowns in a 42-30 win over the Philadelphia Eagles in Week 4.
In Week 8, he added a third game with 12 catches for 94 yards and a score against the New York Giants.
He recorded 12 catches for 148 yards and a touchdown against the Los Angeles Chargers in Week 15, his fourth game with at least 11 receptions in the 2021 season.
On December 21, 2021, Hill was added to the Reserve/COVID-19 list and was later activated on December 25, 2021.
He broke the Chiefs franchise mark for most catches in a season in Week 17 against the Cincinnati Bengals, which was set the previous year by his teammate Travis Kelce.
He concluded the 2021 season with 111 catches, 1,239 yards receiving, and nine touchdowns.
The Year 2022
On March 23, 2022, the Chiefs traded Hill to the Miami Dolphins for a 2022 first-round pick acquired from the San Francisco 49ers, a 2022 second-round pick, two fourth-round selections, and a 2023 sixth-round pick.
Hill also committed to a four-year, $120 million contract with a $72.2 million guarantee, making him the highest-paid wide receiver in the NFL.
Tyreek Hill | Coaching Career
As an assistant coach, Hill commenced his coaching career in 2020 through Lee's Summit North High School.
Tyreek Hill | Career Stats
Tyreek Hill | Awards and Achievements
Tyreek is a wide receiver of the Kansas City Chiefs who wears jersey number 10 and is on an active roster.
Super Bowl champion (LIV)
4× Pro Bowl (2016–2019)
2× First-team All-Pro (2016, 2018)
Second-team All-Pro (2018)
PFWA All-Rookie Team (2016)
NFL 2010s All-Decade Team
Big 12 Offensive Newcomer of the Year (2014)
World Junior Championship
Gold Medal on 2012 Barcelona (4 × 100 m relay)
Bronze Medal on 201 Barcelona (200 m)
Tyreek Hill | Net Worth
The footballer Tyreek Hill, who is to be a free agent in 2023, reportedly has a net worth of $40 million.
In 2022, Hill will receive a base salary of $1,035,000, a signing bonus of $25,500,000, and a workout bonus of $100,000, with a $6,485,000 cap hit and a dead cap value of $52,535,000.
Consequently, he is also the owner of Grip Boost, a brand in the football gloves market that produces gloves with better grip technology. It is his first-ever endorsement campaign.
[You might like to read about Nicole, a gymnast, and sportswoman. Click the link to read]
Tyreek Hill | Love Life
Hill had dated an American girl, Crystal Espinal, and had been in a relationship with her since 2014. After Tyreek proposed to her in September 2018, they got engaged.
They have a son named Zev, who was born in July 2015. After that, they had twins, Nakeem and Nyla, born in July 2019.
Tyreek Hill | Legal Issues
Domestic Assault Conviction
On December 12, 2014, Tyreek Hill was arrested on the charge of assault on his 20-year-old pregnant girlfriend, Crystal Espinal, by the Stillwater police.
As per the sources, the two got into an argument. He had thrown his girlfriend like a "rag doll" and strangled her, followed by showers of punches in her stomach.
Therefore, Hill eventually pleaded guilty to domestic assault and battery by strangulation;  the Oklahoma State football team dismissed him.
Hence, he was sentenced to three years of probation, an anger-management course, and a year-long batterer's program. He also had to undergo a domestic-abuse evaluation.
Child Abuse Investigation
Additionally, in March 2019, Hill was investigated for child abuse due to an incident. Tyreek's three-year-old son sustained a broken arm due to an alleged battery.
Right after it, they kept his son in the Kansas Department of Children and Families temporarily for care.
As the Johnson County District Attorney Steve Howe dug further into the case, he added there was no evidence of the crime committed.
The next day, Hill's recording call with Crystal was discovered, where the two discussed their son's broken arm. On June 7, they made the case inactive, and the following day, they reported it to be an accident.
However, the full audio of the conversation was released, where Hill accused Crystal of lying about the Domestic Violence case and talked about breaking his son's hand.
Afterward, on July 19, 2019, there was no evidence of Hill violating the personal conduct policy; thus, the team did not suspend him.
Tyreek Hill and Kymsley Jackson
Shortly after his messy breakup with Crystal, the Chiefs' wide receiver got together with Kymsley Jackson. Originally from Independence, Missouri, she is the daughter of Tracie Lyons Lorimer.
Likewise, Jackson gave birth to their child, a son named Tyreek Hill Jr, aka Deuce, on May 2, 2019. Other than that, there is not much information on her.
Tyreek Hill and Keeta Vaccaro
Tyreek Hill's recent girlfriend, Keeta Vaccaro, who he started dating late in November 2020, is one of Kenny Vaccaro's sisters.
Keeta is a businesswoman, model, fashion designer, and fitness fanatic who is also lovely!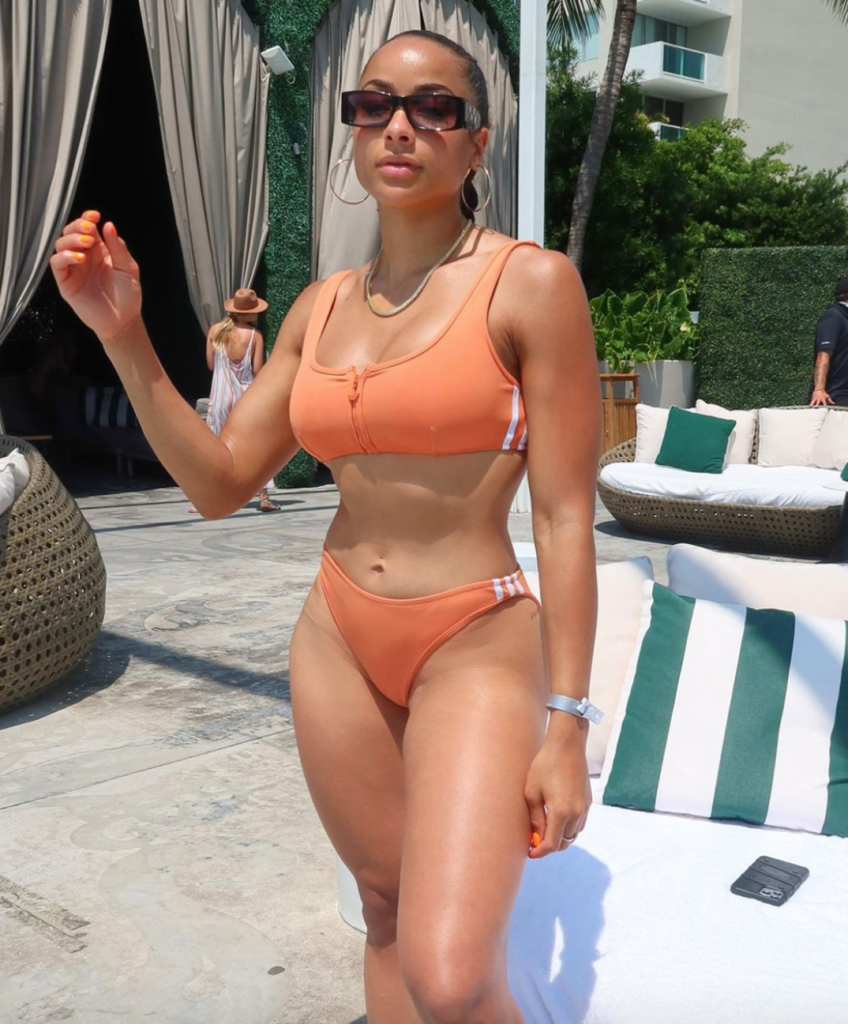 She is the CEO of Misurare by Vaccaro and the co-founder of 1996 the Label with her twin sister Ashley, who graduated from the University of Texas.
Keeta Vaccaro earned a bachelor's degree in entrepreneurship and marketing from the University of Miami in 2019.
Tyreek Hill proposed to his girlfriend Keeta Vaccaro on July 4, 2021, with what Keeta thought was a surprise photoshoot, two pals peeling a backdrop with Hill's proposal and fireworks in the background.
Keeta says she and Tyreek planned the whole party – though she had no idea Hill's secret intention behind the bash was to propose!
The NFL star got down on one knee in front of a sign that said "Will You Marry Me" in big letters at a Fourth of July party.
He posted the picture with the caption, "The beginning of forever ❤️."
Tyreek Hill | Social Media
Hill can be easily found on any social media platform, like Instagram, Twitter, or Youtube. He also has a good number of fanbase and followers, although he may not be a daily user of it.
Tyreek Hill Popularity
Tyreek Hill | FAQs
How fast is Tyreek Hill's 40-yard dash?
Tyreek Hill's 40-yard dash in 4.29 seconds.
What is the relationship between Tyreek Hill and Crystal Espanol?
Tyreek Hill and Crystal Espanol are engaged couples. However, they are not yet married, and as per Crystal, she has no intention of marriage.
According to a source, Espanol has requested the court to give her the sole legal custody and residency of the minor children in her court documents.
What's the Jersey Number of Tyreek Hill?
Hill wears a Jersey number of 10. His Jersey number remains the same in Miami Dolphins as well.
How many rings does Tyreek Hill have?
Tyreek Hill has one championship ring, which he won with Kansas City Chiefs in 2020.
How many mph can Tyreek Hill go?
Tyreek Hill can go up to 21.91 mph (35.26072704 km/hr). It was achieved in week 14 at Kansas City Chief.